Building the future by understanding today
Digital transformation, governance and compliance software and services for charities, education and not-for-profits. Because understanding your organisation today is the key to success tomorrow.
Energise Advance
An online tool to help you simplify and improve governance and compliance in your organisation.
Charities are facing increasing challenges to comply with frameworks and standards, understand risks, manage external vendors and monitor progress against business objectives.
Evaluation & Compliance
Measure you organisation's compliance by self-assessing against standards and frameworks. A central place to manage compliance status and evidence.
Risk Management
Manage and track all your risks in one place, all linked to your compliance frameworks.
Action Planning
Combine all your risk and compliance actions into a single area to make tracking and monitoring simple.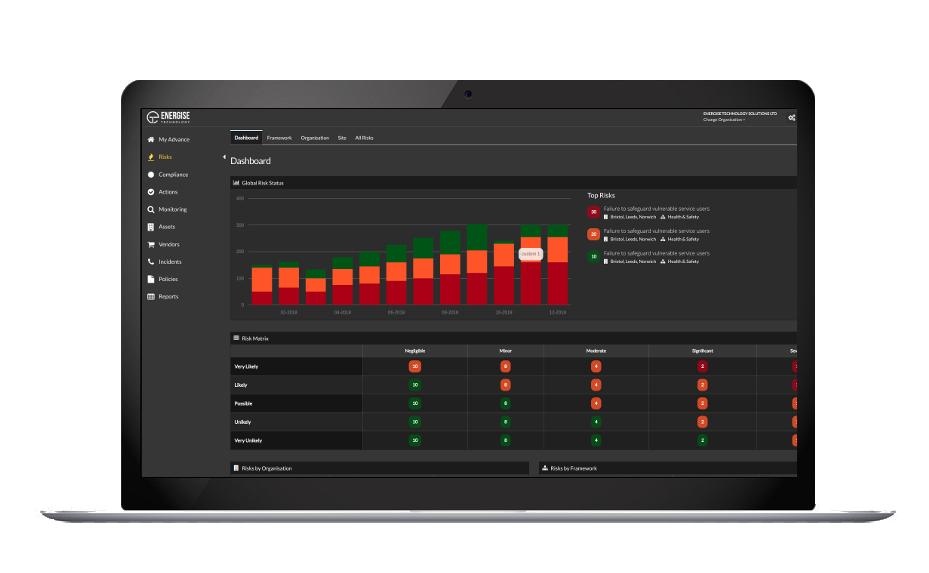 Have questions or wish to book a demo?
Advance is the perfect tool to help manage your compliance and governance processes. Book a demo with one of our Experts who can explain more.
Increased

transparency

and

accountability

are the best routes to promoting better

stewardship

, high quality

engagement

and public

trust

.
House of Commons
Business, Energy and Industrial Strategy Committee
Corporate governance
Fourth Report of Session 2016–17
Digital Transformation
We are experts in designing and building systems to support business processes and operations. We help organisations use technology to become more customer focused, efficient and productive - maximising their technology investment.
Software Development
Full lifecycle software development from initial conception and requirements defition through to support and maintenance.
Requirements Capture
Full lifecycle software development
Advice & Guidance
Support & Maintenance
Data Migration
Performance Optimisation
Consulting
Our expertise allows us to provide advice and guidance to help you align you technology with your business goals, identifying areas which could be more efficient, provide better customer service or provider better value for money.
Ensure your technology strategy is aligned to your business requirements
Provide the information and reporting you need to make business decisions
Validate the quality of your internal systems
Properly adhere to security and information assurance standards
UK Charities in Numbers
Have you ever wondered about the scale of the great work that charities do in the UK? Here's a few stats ...
168,186
UK Registered Charities
Subscribe to our newsletter
About Us
Governance and compliance software and services for charities, education and not-for-profits.
Contact Us
Unit 9
Cirencester Office Park, Tetbury Road,
Cirencester, Gloucestershire.
GL7 6JJ